TechED Europe – Berlin - 9-13th of November
This will be the 2nd time I present at TechED. Last time I had an absolute blast and heard some really good speakers.
I am still working with the TechED team on exactly what type of sessions I will get, and exactly what I'll be talking about but I'm sure it won't surprise anybody reading this blog that there will be a lot of debugging involved :)
There will be lot's of windbg and maybe some Visual Studio 2010 stuff, and of course since I'll be presenting in the web track there will be plenty of asp.net stuff. Having said that, most things I say apply to any .net application.
On the speakers list, the people I am looking forward to seeing the most are Mark Russinovich of course, Roy Osherove and my friend Magnus Mårtensson.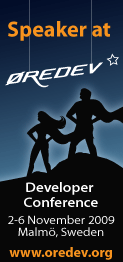 OreDev – Malmö, Sweden – 2-6th of November
Coincidentally Magnus happens to be working for the company (dotway) that organizes Oredev.
I'm really excited about Oredev this year. The lineup is sooooooo good that I will have a hard time choosing what sessions to go to.
The Scotts (Hanselman, Allen and Bellware) for sure, and it is always fun to hear what my colleague Johan Lindfors has to say.
Oredev is a pretty cool conference because they pull in sessions from many different areas so this is a perfect place to go and watch what people outside of the .NET Development field are doing.
I'll of course be talking about what I know best :) Debugging, troubleshooting, Asp.Net, you know the drill.
Hope to see you all there… I'll be on twitter @TessFerrandez (on and off) during the events so don't be shy.
Tess